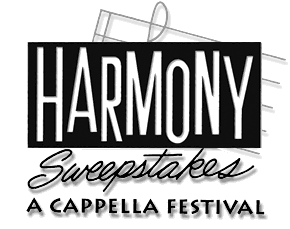 The 2013 Chicago Sweeps have been announced (info is below), and now there's a Facebook event too! You can also send updated contact info to sweeps@blenderful.com, or become a Facebook Fan of the Sweeps in general.
---
HARMONY SWEEPSTAKES A CAPPELLA FESTIVAL
2013 Chicago Regionals
North Shore Center For The Performing Arts In Skokie - MAP
9501 Skokie Blvd, Skokie, IL
Tickets are $19.50 - reserved seating.
Available from the box office 847-673-6300
$15.50 – group rate (15 or more)
$12.50 – student rate (ID required)
National HS site: www.harmony-sweepstakes.com
Chicago info site: www.blenderful.com/sweeps
Facebook page: www.facebook.com/HarmonySweepstakes
---
To enter, please send the following:
A recording of at least two songs (MP3s preferred, CDs acceptable)
A Group Photo (digital) - for the program & websites
A Group Biography (one paragraph) - for the program & websites
More complete Entry Info is here. Please remember a few things:
The deadline for receiving entries is January 4th, 2013.
The show is Saturday, March 9th, 2013 at the North Shore Center for the Performing Arts in Skokie, IL, at 7:30 pm.
Groups must have at least three and no more than eight members.
E-mail your entry to:

sweeps@blenderful.com

Or Snail-Mail to:

Harmony Sweepstakes

c/o Andrew Blendermann
606 N. Wilshire Dr.
Mount Prospect, IL 60056

If you've never opened .PDF files before, you can get a reader from www.acrobat.com. If you have problems with receiving attachments, or with printing out the .PDF files, please contact us and we'd be happy to send you the forms by mail (it's just faster and cheaper this way).
---
If your group has already been accepted into the 2013 Chicago Harmony Sweepstakes, here is all your pertinent information:
Post-entry info
Specific information about participating the 2013 Chicago Regional

(dates, times, locations)

Rules
General information about the Harmony Sweepstakes

(policies, guidelines)

Flyer
This a full page Sweeps flyer, suitable for posting in your school, office, or diner.
Hotel
This is information about the Doubletree Hotel next door, including a code to reserve rooms at a discounted rate.
What we will need from your group (if you haven't sent it already):
Photo (digital)
for the program & websites
via e-mail
by February 1st
Biography (one paragraph)
for the program & websites
via e-mail
by February 1st
Group intro (optional)
via e-mail
Setlist (optional)
via e-mail

E-mail to:

sweeps@blenderful.com

Entry Fee

$10 per group member
via snail-mail
Photo (hard copy)
for displaying in the lobby
via snail-mail

Snail-Mail to:

Harmony Sweepstakes

c/o Andrew Blendermann
606 N. Wilshire Dr.
Mount Prospect, IL 60056
---
If you are judging the 2013 Chicago Harmony Sweepstakes, here is all your pertinent information:
What we will need from you:
| | | | |
| --- | --- | --- | --- |
| Photo (digital) | for the program & websites | via e-mail | by March 1st |
| Biography (one paragraph) | for the program & websites | via e-mail | by March 1st |
| E-mail to: | sweeps@blenderful.com | | |